Battery
A battery provides power to electrical devices. Batteries have to terminals: a positive cathode and a negative anode. When the battery is connected in a complete circuit, the electrons will flow from to negative terminal to the positive terminal, and the current will flow from the cathode to the anode.

Electronic symbol for battery.
Battery discharge time
Battery discharge rate
The life of a battery can be calculated by dividing the capacity by the discharge rate.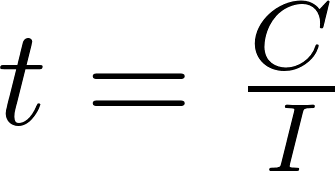 t is the symbol for time and is measured in seconds (s).
C is the symbol for capacity and is measured in ampere-hour (Ah).
I is the symbol for current and is measured in ampere (A).
Battery types
Battery types
Batteries come in many different shapes and sizes. You can find the common ones in the table below.
| name | typical capacity (mAh) | nominal voltage | size diameter x height (mm) |
| --- | --- | --- | --- |
| 4/5 AA | 600-1500 | 1.2 | 14 x 40 |
| ½ AA | 850-1200 | 3 | 14 x 25 |
| AAAA | 625 | 1.5 | 8.3 x 42.5 |
| AAA | 1200 | 1.5 | 10.5 x 42.5 |
| AA | 2700 | 1.5 | 10.5 x 44.5 |
| A | | 1.5 | 14.5 x 50.5 |
| B | 8350 | 1.5 | 17 x 50 |
| C | 8000 | 1.5 | 21.5 x 60 |
| Sub-C | 1200-2400 | 1.2 | 26.2 x 50 |
| D | 1200 | 1.5 | 22.2 x 42.9 |
| F | 26000 | 1.5 | 34.2 x 61.5 |
| N | 800-1000 | 1.5 | 33 x 91 |
| A23 | 55 | 12 | 12 x 30.2 |
| A27 | 22 | 12 | 10.3 x 28.5 |
| BA5800 | 7500 | 5.3 | 8 x 28.5 |
| Duplex | | 3 | 21.8 x 74.6 |
| 4SR44 | 110-150 | 6.2 | 13 x 25.2 |
| Rectangular | | | H x L x W |
| 4.5-Volt | 6100 | 4.5 | 67 x 62 x 22 |
| 9-Volt / E | 565 | 9 | 48.5 x 26.5 x 17.5 |
| 6-Volt Lantern | 26000 | 6 | 115 x 68.2 x 68.2 |
| Lantern (screw) | 10500 | 6 | 109.5 x 66.7 x 66.7 |
| Lantern (Big) | 22000 | 6 | 125.4 x 132.5 x 73 |
| J | 625 | 6 | 48.5 x 35.6 x 9.18 |